Bear's Recovery from Mites
Overcoming Mites
by Dr. Kelly
I first met Bear when he and the Lundbergs first visited the Janesville Veterinary Clinic for a second opinion on chronic skin issues.  At the time, Bear, a 1.5 year-old black Lab, more closely resembled a Mexican Hairless. He was miserable and sad, with his cone of shame and oozing sores all over his body.
Bear had been suffering from skin problems since before being rescued by the Lundbergs at 10 weeks of age. Treatments for the suspected culprits – fleas, food and environmental allergies – failed to help, forcing Bear to endure perpetual discomfort into adulthood while his family watched helplessly.
On his initial exam with me, Bear was essentially hairless, with thickened "elephant" skin, and crusty, infected lesions all over. He was experiencing extreme itchiness (a 20 on a 1-10 itch scale), hence the E-collar. Cytology of his skin showed evidence of a bacterial and yeast infection.  Additional testing was done to determine the underlying reason for the infection: a skin scrape revealed Demodex mites.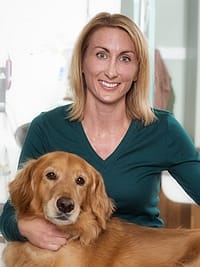 Bear was placed on Ivermectin, a medication to kill the mites. He improved for a couple weeks but then developed a severe, skin-melting, infection on his face.
Antibiotics were ineffective, prompting a culture of the area. The culture showed a Methicillin-Resistant Staph infection. A change in antibiotic therapy was instituted and resulted in immediate improvement.
Less than three months after his first visit, Bear was mite and infection-free!  His hair loss was resolving itself, and he had no more itchiness!  He was a new dog, with pep in his step, a thick black coat, and no more dreaded cone of shame. The Lundbergs finally had the happy puppy they had been waiting for.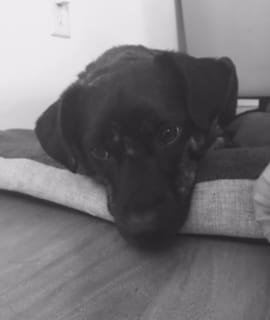 "Bear was about two years old when he started experiencing hair loss and itchiness.  After a couple of months of being treating by Dr. Kelly for mites and an infection, Bear was a new pup with a full coat of hair.  Once he started feeling better, he became very playful and active again.  We cannot thank Dr. Kelly enough for all she did for Bear.  We are forever grateful to her!"

–Theresa Lundberg
Bear's Mom