We are once again collecting donations for the Friends of Noah's C.A.F.E., which distributes pet food to Rock County families in need through area food pantries. Last year, we were able to bring in over 13 TONS of pet food, with the help of generous donors like you.  You can drop off cash or pet food donations to either of our clinics during business hours, or at one of the participating businesses list below.
Community Partners:
During the month of January 2019, you can drop donations off at one of these AWESOME businesses:
Knapton Musik Knotes, Raven's Wish, Perfectly Plus Women's Consignment, The Merry Groomer Pet Salon, Bellasazi Spa, Legends Tavern, Jack & Dicks Feed & Garden, Blackhawk Veterinary Hospital, Mt Zion Small Animal Clinic, All Creatures Small Animal Hospital, Badger Veterinary Hospital, Edgerton Veterinary Clinic, Basics Cooperative, GOEX Corporation, Prent Corporation, Fagan Automotive, and the Rock County Sheriff's Office.
On-Site Pet Food Drive:
Visit us on Saturday, February 9th from 10am-3pm at Mounds in Janesville!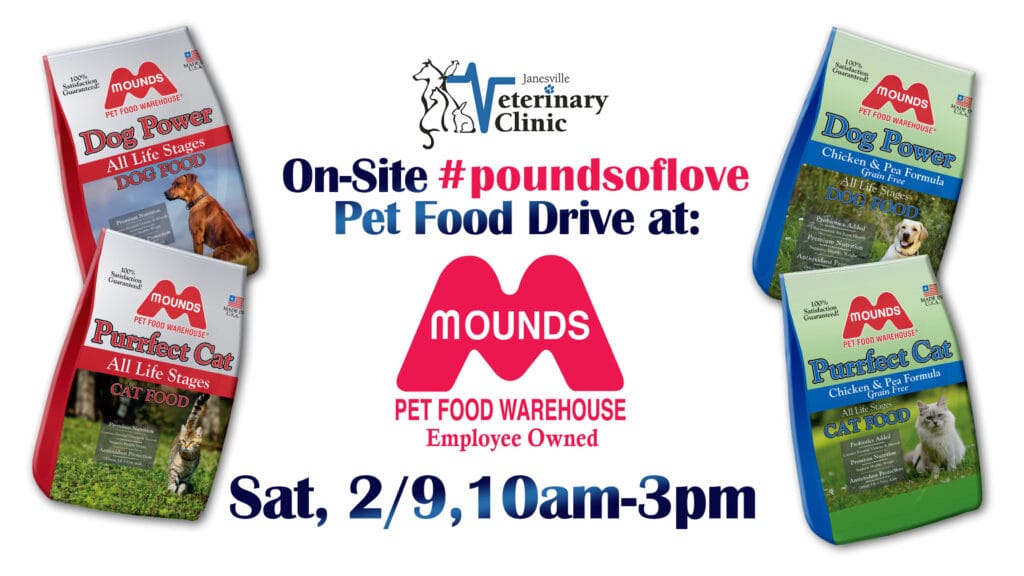 Consider being a HERO for a local animal who might otherwise go hungry or be abandoned by making a pet food or cash donation today!