Friday Gets a New Lease on Life! 
Submitted by:  Carol Greenwell

When he was 10 years young last fall, it became apparent that Friday could no longer use or control his back legs.  Even going potty was a struggle as I would have to hold him up. Needless to say, this took a toll on both of us and Friday's normal, goofy personality began to disappear. 
It was determined that he had a slipped disc in his lower back which was causing these issues.   Soon as he was diagnosed, we started seeing Dr. Jennifer for acupuncture.  After just the first couple of appointments, I started noticing an improvement! 
Since undergoing acupuncture, Friday has gone through an amazing transformation!  His goofy personality is back.  He has been doing some amazing 'zoomies' where there is nothing but air below him!  You would never know this was the same dog who almost paralyzed in the fall.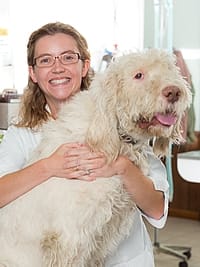 From Dr. Jennifer:
It was such an honor to be able to use acupuncture as an additional therapy in managing Friday's intervertebral disc disease. I loved not only seeing him relax during his acupuncture sessions but to see that comfort and increase in mobility continue over time to the point he is back to doing one of his favorite activities- zoomies!!