Acupuncture Gave Doodle a New Lease on Life! 
Submitted by:  Barbara Smith
When Doodle was around 10-11 years old, I noticed he was having weakness in his limbs, shoulders, hips and back pain.  His quality of life was diminishing quickly.
Doodle started acupuncture, laser therapy, and chiropractic with Dr. Jennifer about 18 months ago.  At his first appointment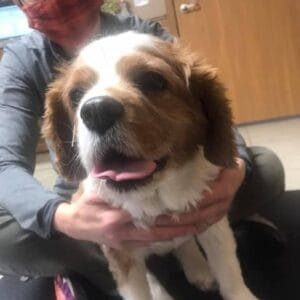 he went in slow and limping.  He came out with minimal limp and with vigor!
Doodle sees Dr. Jennifer every 1-2 weeks.  I am positive these sessions are what is keeping Doodle alive.  Not only alive, but he has a quality of life now.  Before therapy he was getting to the point where nothing was driving him anymore.  He was a lump of an old man that didn't do much moving.  Now he enjoys life, is eager to start the day, and he finds mischief – a true sign that dogs are doing good!  Additionally, Doodle is on very minimal drugs to keep him from pain, which spares his organs and allows us more time with him.
I am incredibly thankful to Dr. Jennifer.  I've had a LOT of vets, many of which were great.  However, none of them compare to the care that Dr. Jennifer gives.  She provides him with so much more than traditional veterinary care.  She reaches his soul and supports his entire system in multiple different ways.  Going above and beyond doesn't begin to capture the gravity of everything Dr. Jennifer does.
From Dr. Jennifer:
Doodle is such a goofy, gentleman of a dog. I love how acupuncture has helped him feel better not only for specific sore body regions, but how it has helped him stay an overall happy dog. He always does a little happy dance after each session, good for his body and soul!  The body is truly amazing with how, when given a little help and direction, it can send itself in the direction of health and wellness.